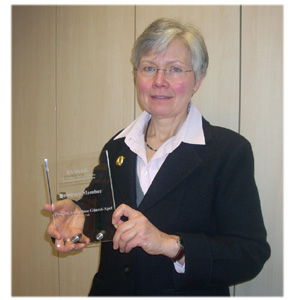 Prof. Dr. Anne-Rose Günzel-Apel graduated in 1974 from the School of Veterinary Medicine Hannover, Germany.
She has been working from 1975 to 1991 at the former Clinic for Andrology and AI in Domestic Animals under the direction of Prof. Dr. Dr. h.c. mult. Hans Merkt and from 1992 to 2005 at the Institute of Reproductive Medicine under the direction of Prof. Dr. Edda Töpfer-Petersen.
She acquired her doctor degree in 1975 and her habilitation in 1987 and was appointed full Professor for Gynaecology and Andrology of Small Animals in 1994.
Since 2006 she is representing Small Animal Reproduction at the Unit for Reproductive Medicine of Clinics as member of the Small Animal Clinic.
Clinical and research activities were focussed on Equine and Small Ruminant Reproduction and AI from 1975 to 1982 and since then on Canine and Feline Reproduction.
She is Founding Diplomate of the European College of Animal Reproduction (ECAR) and has been member of the first Examination Committee of ECAR (2002-2007).
Anne-Rose Günzel-Apel is married and mother of a son and two daughters.
Selected Publications
Steinhauer N, Boos A, Günzel-Apel AR (2004): Morphological changes and proliferative activity in the oviductal epithelium during hormonally defined stages of the oestrous cycle in the bitch. Reprod Dom Anim 39, 110-119.
Petrunkina AM, Simon K, Günzel-Apel AR , Töpfer-Petersen E (2004): Kinetics of protein tyrosine phosphorylation in sperm selected by binding to homologous and heterologous oviductal explants: how specific is the regulation by the oviduct? Theriogenology 61, 1617-1634.
Petrunkina AM, Gröpper B, Töpfer-Petersen E, Günzel-Apel AR (2005): Volume regulatory function and sperm membrane dynamics as parameter for evaluating cryoprotective efficiency of a freezing extender. Theriogenology 63, 1390-1406.
Steiger K, Politt E, Hoeftmann T, Meyer-Lindenberg A, Schoon HA, Günzel-Apel AR (2006): Morphology of canine placental sites after induced embryonic or fetal death. Theriogenology 66, 1709-1714.
Günzel-Apel AR, Zabel S, Bunck CF, Dieleman SJ, Einspanier A, Hoppen HO (2006): Concentrations of progesterone, prolactin and relaxin in the luteal phase and pregnancy in normal and short cycling German Shepherd dogs. Theriogenology 66, 1431-1435.
Koch A, Hoppen HO, Dieleman SJ, Kooistra HS, Günzel-Apel AR (2006): Effects of the dopamine agonist cabergoline on the pulsatile and TRH-induced secretion of prolactin, LH, and testosterone in male beagle dogs. Theriogenology 65, 1666-1677.
Petrunkina AM, Waberski D, Günzel-Apel AR , Töpfer-Petersen E (2007): Determinants of sperm quality and fertility in domestic species. Reproduction 134, 3-17.
Günzel-Apel AR , Fehr M, Seefeldt A, Reischauer A, Schoon HA (2008): Case report: Prolonged foetal retention in a bitch resulting in trichogranulomatuous panmetritis and re-establishment of fertility after unilateral ovariohysterectomy. Reprod Dom Anim 43, 117-120.
Günzel-Apel AR, Seefeldt A, Eschricht FM, Urhausen C, Kramer S, Mischke R, Hoppen HO, Beyerbach M, Koivisto M, Dieleman SJ (2009): Effects of gonadectomy on prolactin and LH secretion and the pituitary-thyroid axis in male dogs. Theriogenology 71, 746–753
Günzel-Apel AR , Höftmann T, Nottorf S, Politt E, Meyer-Lindenberg A, Hoppen HO, Einspanier A, Knijn HM, Mischke R (2009): Influence of progesterone withdrawal on pregnancy related parameters during post-implantation early pregnancy loss. Reprod Dom Anim 44 (Suppl. 2): 174-181.