…the largest Society for Small Animal Reproduction in Europe and brings together veterinary scientists and practitioners. EVSSAR is ISO 9001 certified and aims to support continuing education of veterinary students and veterinarians, support research and to provide help and resources related to dog, cat and other small animals reproduction. If you are interested in Small Animal Reproduction you are invited to become a member!
Dear Breeders, our ReproVet Map may assist you to find your Repro Vet!
---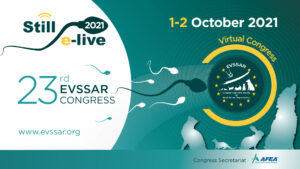 "EVSSAR still e-live", 23rd EVSSAR CONGRESS, 1-2 October 2021
It is a great pleasure to announce the 23rd EVSSAR congress, which will be held on-line! As usual, speakers from different specialist fields will present the latest news about developments in the field of small animal reproduction.
In our 2021 online congress we will continue the European and global scientific discussion, as well as the exchange of ideas after the long pause due to the COVID-19 pandemic.
FINAL PROGRAM
Click here for the final program of the congress!
REGISTRATION IS STILL OPEN!
To register and attend the congress please follow the link: https://afea.eventsair.com/evssar/registration
---
24th EVSSAR Congress in a Joint Meeting with the 9th Quadrennial International Symposium on Canine and Feline Reproduction,

Milan (I) – June 30th to July 2nd, 2022
Dear Colleagues,
The 2021 ISCFR-EVSSAR Congress is postponed because of Covid-19 and will be held in Milan, Italy, from June 30th to July 2nd, 2022.
LOOK TO THE FUTURE and think to a new beginning: let's meet in Milan in 2022!
Click here to save the date and here for more
Further information on this link.
You can contact us for any questions: iscfr-evssar2020@mvcongressi.it
---
Available vacancies at the Faculty of Veterinary Medicine in Ghent, Belgium
Two vacancies at the Faculty of Veterinary Medicine in Ghent (Belgium) are available; one for assistant in small animal reproduction, and one for resident in small animal reproduction.
Please click on the Jobs menu of our site for more details.
---
Department of Reproduction at Wrocław University of Environmental and Life Sciences – Post Doc Position
The Department of Reproduction at Wrocław University of Environmental and Life Sciences and Leading Research Group "InnoWet" welcomes to apply for Post Doc Position regarding EU-funded Marie Skłodowska-Curie Postdoctoral Fellowship in 2021 (MSCA-PF-2021)!
Please click on the Jobs menu of our site or on this link for more details.
---
ART in programs of rescue of endangered species – 17 July 2021
More details can be found here
Information and registration on-line: nawa-workshop1.com
---
Doctoral School in Wroclaw – Call for PhD students
The Doctoral School in Wroclaw announces the call for PhD student on-line applications, for PhD study under the co-supervision of prof. Alain Fontbonne and prof. Wojciech Niżański.
The subject of PhD is " Mechanisms of reproductive aging – studies on domestic dog (Canis familiaris) as model animal". Deadline: May 31st.
More details can be found here.
---
ACCESS TO RDA – Technical problem
Dear EVSSAR members,
Access to RDA from the Library is not working these days due to technical problems. Our webmaster is working hard to make everything working as soon as possible.
Thank you for your understanding!
---
A new selection of papers is available for EVSSAR members in the Library
Gynaecology
Pregnancy/Parturition
Andrology
Neonatology/prenatology
Spermatology
Mammary physiology and pathology
Contraception
Biotechnology and Assisted Reproduction
---
EVSSAR course, Reproduction in companion animals Part I, 2019, "Physiology and pathology in females and artificial insemination"
Τhe EVSSAR course "Small Animal Reproduction I", took place at Wrocław, Poland, 7-11 October 2019! The course was once more successful, with 28 participants from 14 different countries, and perfectly organized by Prof. W. Nijanski and his excellent team!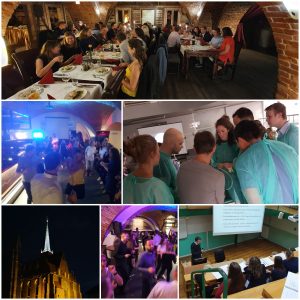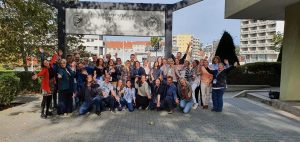 ---
Future EVSSAR Congresses
2021: Online, 1-2 October 2021
2022: Milan (IT), XXIII EVSSAR congress, as a joint meeting with the 9th Quadrennial ISCFR, 30 June – 2 July 2022
2023: ECAR – ESDAR – EVSSAR joint meeting, Nantes
2024: To be announced
---
FECAVA, FVE Position Paper on breeding healthy dogs: the effect of selective breeding on the health and welfare of dogs
EVSSAR, the largest Veterinary Society on small animal reproduction, plays a leading role in highlighting the impact of extreme breeding in dogs. Therefore, our Society, an associate member of FECAVA, supports the Position Paper launched in June 2018 by FVE/FECAVA on healthy Breeding!
---
Reproduction in Domestic Animals Journal On-line!
EVSSAR members have full on-line access to all the Issues the Journal of Reproduction that are published from January 2018!
Please visit the restricted area of the Library!