…the largest Society for Small Animal Reproduction in Europe and brings together veterinary scientists and practitioners. EVSSAR aims to support continuing education of veterinary students and veterinarians, support research and to provide help and resources related to dog, cat and other small animals reproduction. If you are interested in Small Animal Reproduction you are invited to become a member!
Dear Breeders and colleagues, our ReproVet Map may assist you on finding a Reproduction Veterinarian!
---

EVSSAR Courses are back!
EVSSAR Small Animal Reproduction course Part 1 will take place in:
Wroclaw, Poland 16-20th of October 2023
For the third time (after 2017 and 2019) Small Animal Reproduction EVSSAR Course Part I, will take place at Wroclaw, 16-20 October 2023, with Prof. Wojciech Niżański as the course Master.
---
1st ESAR conference in Nantes, France
21-23 September 2023
Dears,
do not hesitate to register in the first joint symposium, "ESAR" in Nantes!
For registration, you can check click here. Early bird is until July 31st 2023.
Be careful hotel availability could be reduced because of the concomitant Rugby World Cup, happening also in Nantes!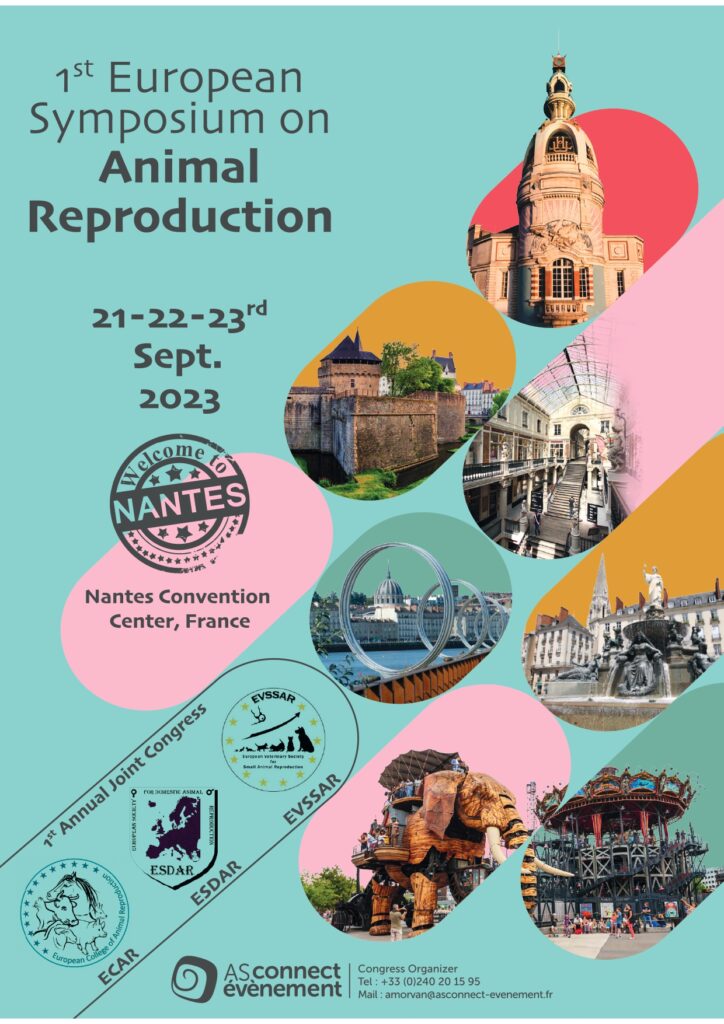 EVSSAR Grants 2022/2023
Dear members,
all the Board would like to thank all the members that submitted their projects for the Grants 2022/2023.
We have received 15 submissions, which is an excellent result and shows the growing interest in small animal reproduction!
The Board has decided upon the awarded grants and the winners shall be announced in the newsletter.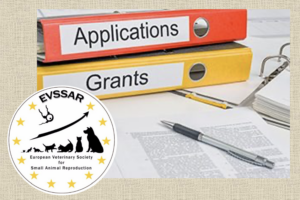 ---
A new selection of papers is available for EVSSAR members in the Library
Gynaecology
Pregnancy/Parturition
Andrology
Neonatology/prenatology
Spermatology
Mammary physiology and pathology
Contraception
Biotechnology and Assisted Reproduction
---
Future EVSSAR Congresses
2023: ESAR – (ECAR+ESDAR+EVSSAR), Nantes, France
2024: To be announced. Applications are opened
---
Statement for Ukrainian veterinarians
EVSSAR as an European and international society aiming to support scientific cross-national exchange and friendships. Our society condemns the war actions in Ukraine. We sincerely hope that all our members and their beloved ones are safe and sound.
The Board has decided to waive the membership fees for our Ukrainian members for 2023. In addition, the Board has decided to offer a special registration fee for those Ukrainian vets who would like to attend the 1st ESAR symposium in Nantes. Ukrainian colleagues can participate at the same fee as a PhD Student or Resident (200 Euros).
We are determined to offer as much help and support as we can, to our Ukrainian veterinary colleagues and we are open for suggestions to further support the reconstruction and development of small animal reproduction (and beyond) in Ukraine.
On behalf of the EVSSAR Board,
The president,
Andrea Del Carro
---
FECAVA, FVE Position Paper on breeding healthy dogs: the effect of selective breeding on the health and welfare of dogs
EVSSAR, the largest Veterinary Society on small animal reproduction, plays a leading role in highlighting the impact of extreme breeding in dogs. Therefore, our Society, an associate member of FECAVA, supports the Position Paper launched in June 2018 by FVE/FECAVA on healthy Breeding!