...the largest Society for Small Animal Reproduction in Europe and brings together veterinary scientists and practitioners. EVSSAR aims to support continuing education of veterinary students and veterinarians, support research and to provide help and resources related to dog, cat and other small animals reproduction. If you are interested in Small Animal Reproduction you are invited to become a member!
---
EVSSAR Course: Reproduction in companion animals Part I, 2017 "Physiology and pathology in females and artificial insemination"
Τhe EVSSAR course 1 "Physiology and pathology in females and artificial insemination", will be held in Wroclaw (Poland) from 9th to 13th of October 2017. Course master is Prof. W. Nijanski.
The program can be seen here.
Click on the link to visit a map presenting locations of important addresses for the participants of the EVSSAR Course:
https://drive.google.com/open? id= 1hmgSaLf4o2aWMzYsNiCpx0aScqc& usp=sharing
Registration fees closed.
Here you can find informations about accommodation.
---
"WSAVA Precongress day (24th September 2017): Small animal reproduction and beyond - daily problems and trouble shooting"
---
EVSSAR Scholarship Grants
We have the great pleasure to announce that EVSSAR members can apply for a scholarship grant for the EVSSAR course in Wroclaw (see above). You need to be a member for minimum one year. The grant will consist of a 50% reduction of the course fee. Application deadline: August 31th 2017.
---
EVSSAR Research Grants
We are happy to announce another call for applications for EVSSAR Research Grants!
The grants are open to all EVSSAR members (minimum membership is one year, except board members and their affiliates). Only one grant in 3 years is possible! Application deadline: October 31th 2017.
---
Vaginal smear project
Please visit the members' area of the library for an update!
---
Ovulation timing – a survey among experts
In another project small animal repro experts were asked how they do timing of ovulation in bitches. Here you can see the answers!
Thank you all for participation!
---
A New selection of papers (updated August 2017) is available for EVSSAR members in the Library
Gynaecology
Pregnancy/Parturition
Andrology
Neonatology/prenatology
Spermatology
Mammary physiology and pathology
Contraception
Biotechnology and Assisted Reproduction
---
 20th EVSSAR Congress, Vienna, Austria 29th June - 1st July
Dear members, dear colleagues, the 20th EVSSAR Congress was successfully held at Vienna (Austria) from June 29th to July 1st 2017.
The scientific program can be seen here.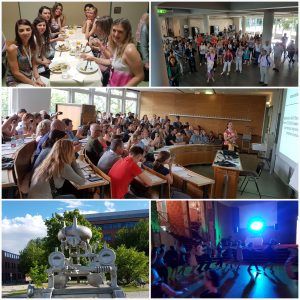 ---
---
Hosting an EVSSAR Congress - Call for Expression of Interest
Delegates that wish to organize and host an EVSSAR congress in  2019, and 2020, are kindly welcomed to apply for it, and express their interest using this form .
All applications should be send to George Mantziaras (gmantziaras@yahoo.com) and they will be evaluated by the Board.
---
Read the latest news about EVSSAR: