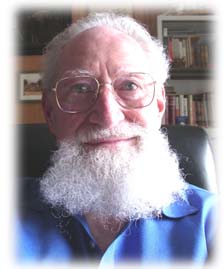 Wolfgang Jöchle, DVM , Dr. med. vet., Dipl. ACT, Professor (honorary)
Wolfgang Jöchle (W.J.), a veterinarian, graduated in 1952 from the LM University in Munich, Germany, and received his Dr. med. vet. in 1953. In his professional life, he combined involvement in basic research in animal reproduction with the development of new drugs and techniques for the control of animal reproduction, especially in dogs and cats, female and male. In 1963, he developed a contraceptive pill for pets, which was on the European market for many years. He held academic appointments (Munich, Berlin, Hannover) and worked in the pharmaceutical industry as a research scientist (Berlin) and as an executive (Mexico City, Palo Alto, CA) and with this industry from 1976 to 2003 as a consultant worldwide. W.J. is semi-retired.
He's a Diplomate of the American College of Theriogenologists since 1975. He is the founder of "Theriogenology" (1974), the first international journal devoted entirely to domestic animal reproduction and served on its editorial board. He has published more than 300 papers in professional and refereed journal, and a book on "Control of Reproductive Functions in Domestic Animals" (1980).
He's – or was – a member of more than twenty learned societies and professional associations from around the globe; he has been involved in nearly as many countries, directing R and D with a wide variety of novel animal health products. Many made it to the market. He taught "Clinical Endocrinology of Reproduction" at the School of Veterinary Medicine in Hannover, Germany, from 1980-1995, where he was awarded an honorary professorship in 1987.
Presently, W.J. concentrates his efforts on novel approaches to contraception in pets and wildlife
W.J. is a US citizen since 1990.