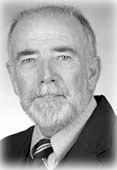 Dr. Patrick W. Concannon, MS, PhD, DACT (Hon) obtained his B.S. Biology at Boston College (Massachusetts) in 1963 and his M.S. Biology at Northeastern University in Boston (Massachusetts) in 1965.
In 1971 he obtained his Ph.D. in Animal Physiology (Reproduction) at Cornell University (Ithaca NY).
He was Founder and Chairman of the Quadrennial International Symposium on Canine and Feline Reproduction. He was honorary member of several prestigeous veterinary organizations including EVSSAR, the American College of theriogenology (ACT) and the USA Veterinary Honor Society PhiZeta.
He was a Lecturer in Human Physiology, Animal Physiology, Veterinary Endocrinology and Theriogenology at the College of Veterinary Medicine and Division of Biological Sciences (Cornell University).
He was also an external thesis reviewer (U. Liege, Belgium; Swedish National University, Uppsala, Sweden; U. Pretoria, So. Africa) and a frequent Invited lecturer at the WSAVA, SCIVAC (Italy), EVSSAR, ACT.
He has published over 130 publications (excluding abstracts) dealing with reproductive regulatory mechanisms, endocrinology and pathology, and editor or co-editor of several books, including the Proceedings of the International Symposium on Canine and Feline Reproduction.
Dr. Concannon held the following positions :
(1) Visiting Fellow and Emeritus Faculty, Dept. of Clinical Sciences and Dept. of Biomedical Sciences, College of Veterinary Medicine, Cornell University, Ithaca NY 14853.
(2)  Visiting Lecturer, University of Florida, Gainesville, FL.
(3)  President and Chairman, International Veterinary Information Service.
Dr. Pat Concannon passed away on February 23rd, 2015.